Apple® Tax-Free Week
We're hosting our CampUSConnect Apple Tax Free Week May 1st – May 7th, 2021.
With special 9.5% savings in addition to Education Pricing you can save up to $300 on Mac® and $200 on iPad®! For the first time ever – Apple Accessories, including Apple Watch and AirPods, are eligible for these special 9.5% savings!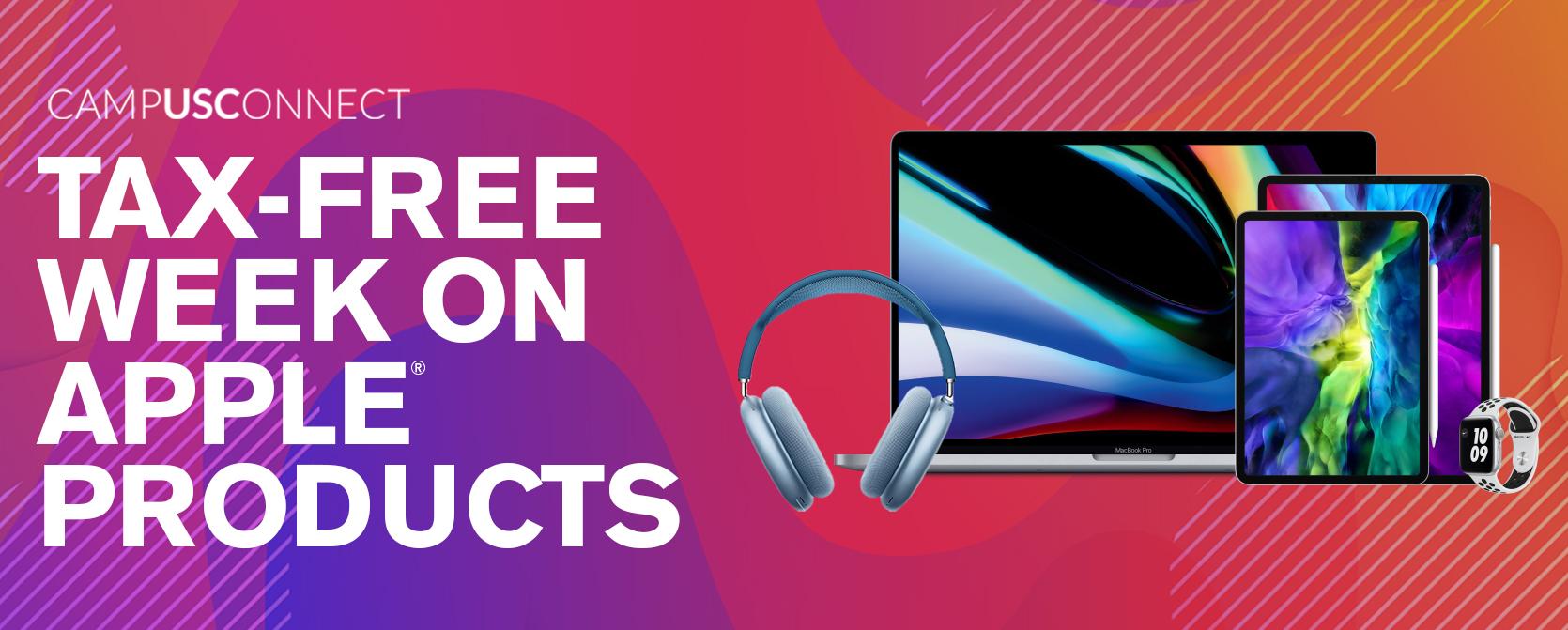 Product reservations end on Friday April 16th, 2021.
Plan your Visit
University Park Campus location will be open Monday through Friday, 8:00am to 4:00pm
Health Sciences Campus location will be open Monday through Friday 9:00am to 5:00pm.
All USC Bookstore guests are required to complete the Trojan Check wellness assessment in advance of arriving at campus. To start Trojan Check, visit https://trojancheck.usc.edu/login
Making an appointment to shop at USC Bookstores is highly recommended so we can create the safest shopping environment possible, visit https://appointments.uscbookstore.com/
Shipping & Delivery
Can't make it to one of our store locations? Don't worry: Shop online starting on May 1st through May 7th ,2021 at the https://www.uscbookstore.com/technology-campus and we'll ship your order anywhere in the continental United States or you can pick it up curbside at 3427 S. Grand Avenue Los Angeles CA 90089. Curbside Pickup is available Monday – Friday (excluding USC holidays), from 8:00 AM to 2:00 PM. Click here for Curbside Pickup details
Trade-In
If you would like to trade in a fully functional Apple laptop or iPad you currently own for store credit to be used towards your Tax Free Day purchase please visit https://uscbookstore.poweron.com to receive a quote for your product. Please note that all trade-ins submitted in the "LIKE NEW" condition must be submitted directly to PowerOn and cannot be processed at CAMPUSCONNECT. If you would like to proceed with the trade in for the price you are quoted please bring it to CAMPUSCONNECT in USC Bookstore (open Monday through Friday, 8:00am to 4:00pm) before Friday April 23rd, 2021 to have the computer evaluated.
NOTE: We will NOT accept any trade-ins during the sale week.
Protect Your Investment
APPLECARE+

AppleCare+ is available at the time of purchase and is not part of the special. It is already a non-taxable item.
Terms and Conditions
Pricing is valid for one week - Saturday, May 1st, 2021 through Friday, May 7th, 2021 - on in-stock items only.
CA LA Tax 9.5% off Educational price per item, total savings might vary based on Point of Sale calculations.
Product availability is not guaranteed.
Reservations must be picked up by 3:00 PM on Friday, May 7th, 2021 otherwise they will become available for walk-in customers to purchase on a first come, first serve basis.
Eligibility requirements apply. Must be current USC student, faulty, staff or Alumni.
USC Bookstores reserves the right to change these terms and conditions at any time without prior notice
™ and © 2021 Apple Inc. All rights reserved.